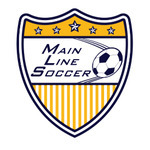 Main Line Soccer (MLS) is a youth soccer organization that offers a wide range of youth travel soccer teams created to maximize the development of every soccer player consistent with their skill level and commitment, while recognizing today's student-athletes have many other competing activities and interests. We strive to provide an environment conducive to the development of the student-athlete through quality training and competition using the finest facilities in the area.
We encourage attendance at a minimum of 2 dates listed for your child's birth year. To see full listing of all three tryout dates by age group, click on the blue event name below. Player availability (attending/not attending) for each tryout date will be requested during the registration process. Please contact us at MLS@excelatea.org if your child is unable to attend the dates/times listed and we will do our best to provide you with an alternate tryout date.
All tryouts will take place at The Episcopal Academy located at 1785 Bishop White Drive in Newtown Square, PA. Tryout sessions will run from 6:15-7:45pm on Field F (Lower Turf next to Stadium), Field G (Stadium Turf) or Field H (Grass Field next to Stadium). Please arrive by 6:00pm for check-in.

Equipment Needed: appropriate soccer clothing, shin guards, cleats, ball and water!

SEE YOU AT TRYOUTS!